---
Welcome to the Venus Awards Official Website
Who we are
Referred to as the Working Women's Oscars, the Venus Awards were formed in 2009 to recognise, reward and celebrate local working women in business.  The Venus Awards began in Dorset and has since exploded into other regions across the country. Culminating with an annual National Final that truly represents the inspirational women who balance and juggle their lives relentlessly and unconditionally, who inject their communities with a sense of feminine robustness and solidity only a woman can provide.
Women play such a pivotal role in our local economies, it is crucial that hard-working business women have the spotlight shone upon them.  As the Venus phenomenon rolls on across the country, more women in business will stand up and let the world know what they do, how they do it, and the challenges they face.  This typically leads to more women helping each other through mentoring, networking and plain old 'doing business' together.  Raising awareness of the successful women in our midst and publicly acknowledging them underlines the economic force women have become.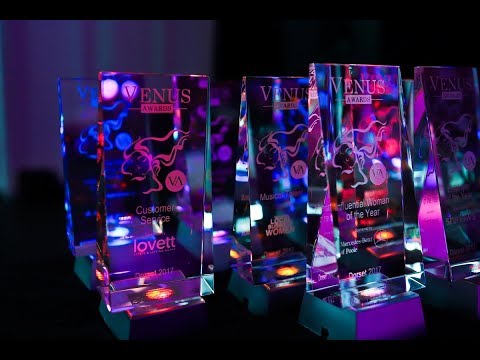 Follow us...
For Someone Deserving of Recognition
Nominating someone shows how much you appreciate them for all their efforts and hard work.
"Being a finalist meant I felt it was newsworthy enough and I was mentioned in all my local publications I did feel a lot of pressure as being a 'mother in business' obviously means I am extremely busy at the best of times and getting public votes almost pushed me to the edge."

"The greatest feeling is to be publicly recognised for the business you have worked so hard to create. The awards are also such an amazing opportunity to meet so many like minded and successful business owners all striving to reach their goals. It is very inspirational.

"The awards have shown me that I can be a full time mum and run a successful business as well and that it's ok to be proud to celebrate it."

"The Venus Awards is a very worthwhile networking opportunity and a great way to raise the profile of your business and your own profile as a business woman. I am sure you will find it motivating, inspirational and supportive. You will probably make some new friends too!"

"Personally, the Awards helped me to recognise the value of continuing to do what I do. To be recognised by other women is an incredible boost to confidence and although you know that what you do is valuable, having that underpinned and recognised by your peers adds value to everything from that point on. I intend to continue to display the awards ( Local and National) with great pride."

"Awards are brilliant for PR and marketing, and I know from personal experience here at YouGen, that even reaching the finals of any award creates a buzz, and as for winning, well."

"Being nominated has given me more confidence. I have allowed myself to stop and think yes I do a good job and I have enjoyed and accepted the praise. (which I don't usually do.)"

"We met, networked and became part of a unique business community which not only raised our profile but afforded us all kinds of open doors and business opportunities. It's been similarly helpful and an absolute pleasure to be an ambassador and watch and encourage others along their journeys."
Clever Marketing
Did you know that the fastest growing economy isn't India or China its WOMEN. Join the many female-friendly companies supporting the Venus Awards
Meet our National Winners - 2015
---
Enter the Awards
The only way to join the exclusive and fast growing Venus Winners Circle is to apply.  And winning a Venus can add a tremendous amount of value to your business and/or to you personally.
What our Sponsors & Supporters Say
"We started out our journey with you as one of the first companies to come on board with the awards and the reaction we have had has been fantastic. It's opened up all kinds of opportunities and conversations for us, and having our category's winner, Sarah Cressall, crowned National Entrepreneur of the Year really was the icing on the cake."
Hazel Tucker
- Bishop Fleming
"The opportunity to be a nominee, or even winner of this prestigious award presents a wonderful platform to raise the profile of your business (the media love successful women in business), and the benefit of a great network for valuable information exchange with like-minded women."
Debbie Moore
- O.B.E Founder & Chairman, Pineapple
"Nat West is delighted to be the Title Sponsor of the Venus Awards and we are looking forward to celebrating women who are achieving amazing things in all sorts of business."
NatWest
-
"The Venus Awards generate immense excitement and exposure locally for all involved and are embracing both men and women. We are looking forward to supporting the 2014 awards and beyond."
Mark Ryan
- Heart Radio (Dorset)
"We are involved in many events and this is among the very best."
David Ramsden
- Federation of Small Businesses
"It's a great vehicle to allow people to get to know each other and chat informally without pressure at the events. It was heart wrenching to choose our Finalists and then Winner…all the women were so good and had such fascinating stories about how they had built their own successful businesses."
Phil Sampson
-
---
Join the Venus Family
There are so many ways to get involved and put your name to a great initiative!  We here at Venus want to strategically partner with those who share our vision so please consider joining us.
Venus Awards Wants You!
Help us to help you ensure the local hard working business women in your region are rewarded and recognised sooner rather than later.
---
May 27, 2016 | No Comments
Winner of the Peter Cooper Motor Group Influential Woman of the Year Award! Winner Annette Du Bois with Allison Ferris of Peter Cooper Motor Group. The Portsmouth Venus Awards 2016 in association with Peter Cooper Motor Group announced the Winner of the Business of the Year Award at The Pyramids on Friday 6th May 2016....
Read More»
May 27, 2016 | No Comments
AEUK spread the news about apprenticeships and inspirational women in technology! ATLAS ELEKTRONIK UK (AEUK) was the proud winner of the 2015 Dorset Venus "Employer of the Year" and this year will sponsor an award to raise awareness of AEUK and the career opportunities currently available. This year Atlas will sponsor the "Inspirational Woman in Technology" Award.  Time...
Read More»
May 25, 2016 | No Comments
Local Women Networkers to be recognised by Playgolf Bournemouth! Dorset Venus Awards 2016 in association with Mercedes-Benz of Poole announces Playgolf Bournemouth as Sponsor of Networker of the Year!   The Venus Awards are launching in Dorset for its seventh year to find the brightest female business stars in the region, and are pleased to...
Read More»